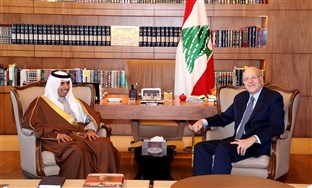 Print
Saudi Ambassador visits Mikati
Monday, Jan 08, 2018
NNA - Saudi Ambassador to Lebanon, Walid al-Yaacoub, paid a protocol visit to former Prime Minister Najib Mikati at his Beirut residence on Monday.

Welcoming the newly-appointed diplomat, Mikati hoped the upcoming stage would witness further steps to bolster the relations with Saudi Arabia.

"Relations between our countries are the result of a history that is full with agreement and mutual respect and trust," Mikati said.

"Within this context, we warn of the peril of positions harming Lebanon and its historic ties with the Arab brothers, on top of whom the Kingdom of Saudi Arabia," he added.

"We must all work in order to protect Lebanon and keep it away from what it has no capacity to bear," he stressed.

For his part, the Ambassador said, "Unfortunately, there are sides in Lebanon that do not want the ties with the Kingdom to be good. They are vehemently working on harming those relations. But we count on the wisdom of the Lebanese to solve this problem."
more videos
من كلمة الرئيس ميقاتي خلال اللقاء السنوي لقطاع العزم للتعليم المهني