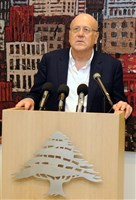 Print
Mikati responds to accusations of unjust enrichment, appeals to Minister of Justice to stop politicization of judiciary
Wednesday, Oct 23, 2019
NNA - MP Najib Mikati said in a press conference he addressed this Wednesday to respond to the most recent complaint of unjust enrichment filed against him: "I was surprised by the timing. Today, Judge Ghada Aoun arrived to her office as if on a mission. It is indeed a message, and it has been well received. The message reads: We have had enough of you, Najib Mikati; you have not voted for the president three years ago, and you are a defender of the constitution, the community and the prime minister's office."

Mikati said "everybody knows I am under the ceiling of the law, since day one."

Addressing what he called "a fabricated file," the MP reiterated readiness to lift bank secrecy off his accounts, appealing to Minister of Justice, Albert Sarhan, to save the Covenant and work to stop the politicization of the judiciary.