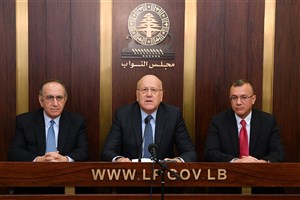 Print
Mikati says submitted draft electoral law, suggested shortening parliament's mandate
Wednesday, Feb 12, 2020
NNA - Former Prime Minister, Najib Mikati, on Wednesday said at a press conference that he had submitted an electoral bill based on 5 governorates, in which each voter votes within his or her jurisdiction with two preferential votes. He suggested as well shortening the current parliament's mandate.

Moreover, the lawmaker called on the parliament to meet and discuss the new electoral law, expecting the situation to only improve through early elections.

"An imbalance exists today because of the presence of strong and weak parties; this is unacceptable. We await the ordinary Parliament session to submit a constitutional amendment to set the voting age at 18," Mikati added.
more videos
كلمة للرئيس نجيب ميقاتي بمناسبة العام الجديد