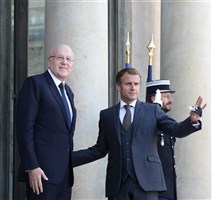 Print
Mikati from Elysee says determined to implement necessary reforms, hold elections in spring
Friday, Sep 24, 2021
NNA - In a joint press conference at the Elysee Palace with French President, Emmanuel Macron, Prime Minister, Najib Mikati, affirmed on Friday his government's determination to swiftly implement all the necessary reforms.

"France has been and still is Lebanon's permanent and steadfast ally. I've had the great honor and pleasure of meeting with President Macron to discuss an array of issues of great importance to both of our countries," Mikati said in a word he gave during the press conference.

"Recently, Lebanon has been experiencing a series of crises that have bogged it down in an unprecedented state of distress. However, all throughout this ordeal, Mr. President [Macron], you have always been by our side," Mikati added, deeming this support of particular importance "because France represents the heart of the international community made up of our Arab brothers and our friends across the world."

Mikati went on to explain that his meeting with Macron had been an opportunity to express his determination to swiftly implement all the necessary reforms, in cooperation with the Lebanese government and with the support of Lebanese President, Michel Aoun, as well as that of the House of Parliament, "to restore confidence, spread a new breath of hope, and alleviate the sufferings of the Lebanese people."

"These measures will be decisive in reviving the nation's economy, in pursuing promising negotiations with the International Monetary Fund, and in kick starting an end to the crisis. I am confident that we can count on France's support in these negotiations," Mikati added.

Most importantly, Mikati said that he had also assured President Macron of the government's determination to hold parliamentary elections next spring, hoping that this will pave the way for a new political life that the Lebanese people long for.
more videos
كلمة الرئيس نجيب ميقاتي خلال حفل إطلاق التسجيل على شبكة "دعم" للحماية الاجتماعية في السراي الحكومي