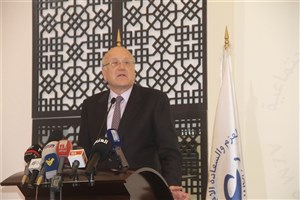 Print
Mikati: Elections won't be on June if agreement fails
Friday, Mar 24, 2017
NNA - Former PM Najib Mikati said that the parliamentary elections "will for sure not occur on June if an agreement in this regard fails to be achieved."

PM Mikati's stance came Friday from Tripoli as patronizing an event on Mukhtar's Day.

However, Mikati called for speeding up the agreement on a new law able to ensure a fair popular representation and produce a new political class.

Separately, Mikati received at his residence in Tripoli Charge d'Affaires of Saudi Embassy Walid Al Boukhari and later on met with the Norwegian ambassador Lene Lind.
more videos
الرئيس ميقاتي يهنىء بمناسبة حلول عيد الفطر السعيد