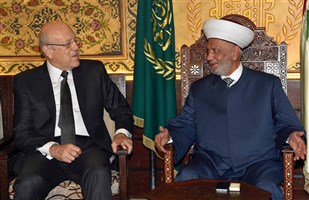 Print
Mikati: Relativity essential at present
Saturday, May 27, 2017
NNA - Former Prime Minister, Najib Mikati, said Saturday that adopting relativity in the parliamentary elections is essential at this point, adding "I support complete relativity to secure the representation of all within the Parliament Council."

"We hope that we will reach a new draft law for the parliamentary elections, to be approved by the Parliament Council in its meeting on June 5, in the event of a decree to open an extraordinary session," he noted.

Mikati's words came following his visit to Mufti of the Republic, Sheikh Abdel-Latif Derian, on occasion of the Holy month of Ramadan.

Discussions touched on the general situation in the country and various issues related to the Islamic "Dar El Fatwa."
more videos
مقابلة الرئيس نجيب ميقاتي في برنامج «آخر كلمة» على شاشة LBCI