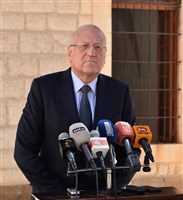 Print
Mikati, Rahi discuss latest developments
Wednesday, Sep 06, 2017
NNA - Former Prime Minister Najib Mikati visited Maronite Patriarch Cardinal Mar Beshara Boutros Rahi in Diman, for talks over the current general situation and latest developments.

"During the meeting, I voiced full support for the Lebanese army and the sacrifices it is making across the nation," Mikati told reporters following the meeting.

"I also highlighted the importance of adopting a unified position from the events in Myanmar," he added.

Moreover, Mikati called for investigations into the events that shook Tripoli from 2011 till 2013.
more videos
مقابلة الرئيس نجيب ميقاتي في برنامج «آخر كلمة» على شاشة LBCI