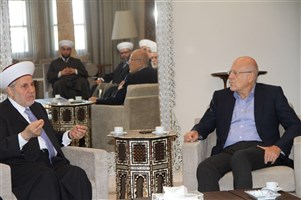 Print
Mikati: To refrain from sectarian polemic at this delicate stage
Sunday, Sep 10, 2017
NNA - Former Prime Minister Najib Mikati called Sunday for "staying away from sectarian talk at this sensitive phase in Lebanon and what has followed the successful "Fajr el-Joroud" Army operation in Ras Baalbek and al-Qaa outskirts, and the unveiling of the soldier martyrs' fate."

"Any attempt to monopolize opinions and national decisions will drag us back into the cycle of strife and divisions," warned Mikati during his meeting with Mufti of Tripoli and the North, Sheikh Malik al-Sha'ar, who visited him on head of a Tripoli delegation.

"Past experiences have taught us that no side, no matter how significant, can prevail over another, and no team can exclude the other in the country. This diversity has always been Lebanon's main remarkable characteristic," he added.

Accordingly, Mikati deemed that the Lebanese are faced with the sole option of a State that protects everyone, and dialogue between all the nation's components in order to reach common points of understanding to overcome the differences and friction-causing issues.
more videos
مقابلة الرئيس نجيب ميقاتي في برنامج «آخر كلمة» على شاشة LBCI