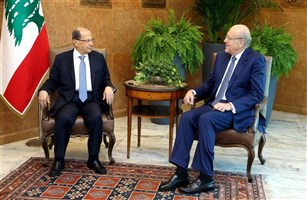 Print
Mikati from Baabda palace says optimistic, anticipates swift solution
Tuesday, Nov 07, 2017
NNA - Former Prime Minister, Najib Mikati, said in the wake of his meeting with President of the Republic, General Michel Aoun, that he was optimistic about a swift solution to the political crisis that Lebanon currently endures.

"My meeting with the president mainly focused on the possible reasons behind Prime Minister Saad Hariri's resignation and the best means to tackle the situation. President Aoun has also given me a briefing on the reasons behind postponing consultations," Mikati added.
more videos
كلمة الرئيس ميقاتي في الحفل الختامي لـ "جائزة عزم طرابلس لحفظ القرآن الكريم"