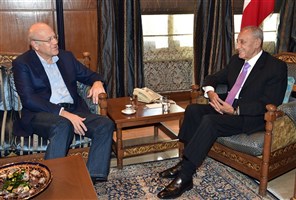 Print
PM Mikati: We need Hariri to return to get things organized
Saturday, Nov 11, 2017
NNA - Former Prime Minister Najib Mikati visited Saturday House Speaker Nabih Berri at his Residence in Ain Teeneh, with talks centering on the recent political developments.

On emerging, Mikati reiterated the dire need for the return of Prime Minister Saad Hariri to Lebanon, in order to get things organized and to clarify all the confusion that happened following his sudden resignation from Riyadh.

"Speaker Berri is keen on maintaining moderation and balance in the country, especially that the Prime Minister's post is the backbone of said composition," Mikati concluded.
more videos
مقابلة الرئيس نجيب ميقاتي في برنامج «آخر كلمة» على شاشة LBCI