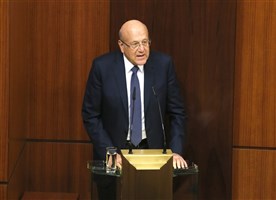 Print
Mikati says US decision signifies intention to abolish Palestinian cause
Friday, Dec 08, 2017
NNA - The US decision recognizing Jerusalem as the Israeli capital is an outright indication of a bellied intention to abolish the Palestinian cause, MP Najib Mikati, said in an address he gave during Friday's extraordinary Parliamentary session in condemnation of US President, Donald Trump's decision.

"US President Donald Trump's decision to move the US embassy to Jerusalem is a major act of defiance. This has happened due to the fact that we [Arabs] have turned a blind eye to the Palestinian cause, but have been distracted by disagreements and wars among each other," Mikati said.
more videos
كلمة الرئيس ميقاتي في الحفل الختامي لـ "جائزة عزم طرابلس لحفظ القرآن الكريم"