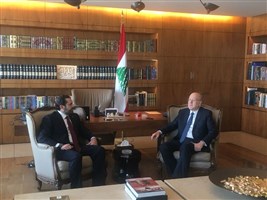 Print
Mikati, Hariri convene
Friday, May 25, 2018
NNA - Former Prime Minister Najib Mikati met this afternoon with Prime Minister-designate Saad Hariri, with talks centering on hour issues, mainly the new cabinet formation.

On emerging, Hariri said, "I was honored to meet PM Mikati and we talked about the situation in the region and the country, and, God willing, we will have another meeting on Monday within the framework of deliberations in Parliament. We agreed that consensus and working together is what makes Lebanon stronger, through which we can accomplish all the projects that we aspire for, in order to revive the Lebanese economy."

Asked about the new cabinet formation, Hariri disclosed that all political parties are pushing towards a rapid government formation, adding, "We hope everyone is aware of the challenges we face."

Responding to another question about rotation in cabinet portfolios, such as the Finance, Interior and Tele-Communications Ministries, the PM-designate said, " I think that even minorities should be able to manage these ministries. Why should we limit them to the basic sects? Why are they only for the Sunni, Shiite, Maronite or Orthodox?"

He added that this issue, like others, requires political consensus.

In turn, former PM Mikati stated that the meeting was an opportunity to congratulate the PM-designate on being commissioned to form the new cabinet, noting that priority at this stage is the formation of a strong and capable government.

"There are always priorities, and the main concern today is forming a strong government based on the State's protection of all," said Mikati.
more videos
مقابلة الرئيس نجيب ميقاتي في برنامج «آخر كلمة» على شاشة LBCI