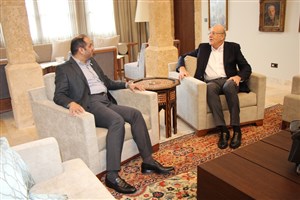 Print
Mikati: It is not permissible to dictate conditions on PM-designate under slogan of quotas
Friday, Nov 30, 2018
NNA - Former PM Najib Mikati said that the Lebanese constitution, which emanates from the Taif Accord, stipulates that the process of forming the government be carried out in exclusive coordination between the Prime Minister-designaand the President of te the Republic. "So, there cannot be any interference in this process."

"Given the  fact that every political party's right to request participation in the government, especially if it were a national unity government, no one should, however, dictate terms on the PM-designate under the slogan of quotas and shares for this or that party," he told his visitors.

"We are neither in a ruling crisis nor in a regime crisis. What we are witnessing today are attempts to circumvent the Constitution and the Taif agreement, under different connotations," Mikati said, stressing the need to return back to the basis, thus "to the Taif Agreement which remains the one stable solution to the problems we are suffering."

In response to a question on the economic and monetary situations, he said: "There must be a distinction, in this framework, between the monetary situation and the problems related to the budget. First of all, there is no monetary problem, especially as the monetary action is part of a long-term program adopted by the Central Bank so as to preserve the monetary situation and Lebanon's reputation and credibility abroad."

"The real problem that Lebanon suffers is its budget, its accumulated deficit, its fiscal policy, and its inefficient financial spending. It is the duty of all politicians to cooperate so as to put an end to these problems, stop useless expenditures, and adopt serious accountability measures," the former PM argued.

It is not too late to start addressing the economic reality, especially if we genuinely let reform come before interests," he assured.

Separately, Mikati welcomed at his residence in Tripoli the United Arab Emirates Ambassador, Hamad Al-Shamsi, who said that "the visit is a friendly one to the brUnitedother and friend of UAE, PM Mikati with whom communication channels are constantly open."

"We wish Lebanon success and the formation of a government in the near future. This visit falls within the activities organized by the UAE Embassy at the Safadi Complex, where there are sports competitions taking place. Our aim, in this context, is to keep the younger generation aloof from extremism ideologies. These activities will extend to the year 2019," the diplomat said.