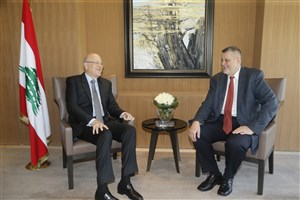 Print
Mikati, Kubiš tackle overall situation
Monday, Mar 04, 2019
NNA - Former Prime Minister Najib Mikati, on Monday received in his office the UN Special Coordinator for Lebanon, Ján Kubiš, with whom he and discussed the prevailing situation in Lebanon.

On emerging, Kubiš described his meeting with Mikati as "fruitful" deeming Mikati as one of the figures who have drawn the history of Lebanon in many aspects, and a part of the Lebanese political spectrum, which contributed to shouldering responsibilities and seeking solutions to protect this country.

Mikati, in turn, hailed the efforts of the UN through UNIFIL forces in preserving stability in south Lebanon, wishing Kubiš success in his mission.

Mikati also expressed concern about the increasing reports of Israel's attempts to infringe the oil wealth in the Lebanese territorial waters, saying Lebanon counts on the role of the United Nations in halting these violations and preserving Lebanon's right to its wealth and territorial integrity.