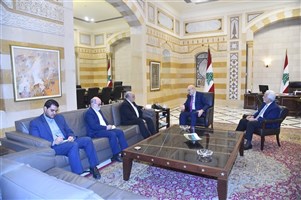 Print
Mikati follows up on latest developments with Iranian Ambassador, chairs food security meeting
Wednesday, Nov 08, 2023
NNA - Caretaker Prime Minister, Najib Mikati, on Wednesday welcomed at the Grand Serail Iranian Ambassador to Lebanon, Mojtaba Amani, with whom he discussed the current developments, as well as bilateral relations between both countries.

The Prime Minister also chaired a meeting by the Ministerial Committee for Food Security, in the presence of Caretaker Ministers of Finance, Youssef Al-Khalil, Industry, George Boujikian, Agriculture, Abbas Al-Hajj Hassan, Economy and Trade, Amin Salam, and Secretary-General of the Presidency of the Council of Ministers, Judge Mahmoud Makkieh.

In the wake of the meeting, Minister Salam affirmed that the import of wheat was on the right track and that food supplies in Lebanon are sufficient for 3 months.

"The issue of importing wheat is on the right track and financing is in place in coordination with the World Bank," Salam explained, ruling out any crisis related to the available quantities of wheat and flour in Lebanon for the time being.

"As for other foodstuffs, we've discussed the import and export chain, and all the other procedures from the moment the ships arrive in Lebanon and pass through all departments: customs, port administration, economics, agriculture, and laboratory tests. Emphasis was placed on the need to speed up transactions and not delay the entry of any goods from any facility — be it in Beirut Port, Tripoli Port, or Beirut Airport," Salam explained.

Later during the day, Mikati welcomed a delegation representing the "National Balance Gathering".
more videos
لقاء خاص مع الرئيس نجيب ميقاتي على قناة TRT عربي