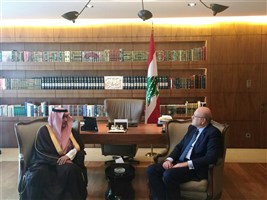 Print
Mikati Sabhan tackle developments: Saudi Arabia does not interfere in presidential dossier
Friday, Oct 28, 2016
NNA - Former Premier Najib Mikati met at his Beirut residence with Saudi envoy, State Minister for Arabian Gulf Affairs, Thamer Al-Sabhan, accompanied by the Saudi Embassy's Charge d'Affaires, Walid Al-Bukhari, with talks touching on the latest political developments and ways to boost ties.

In the wake of the meeting, Mikati delivered a word in which he said "I sensed in his Excellency the Kingdom's unyielding commitment to Lebanon."

"We tackled the presidential dossier. His Excellency stressed that the Kingdom cares for Lebanon's stability and supports whatever the Lebanese are unified over," he said.

Asked whether Saudi Arabia supports the option of the election to be Monday, he said "The kingdom does not interfere in this matter, but talks about the situation in general, and it is the same for it, whoever the president of the republic is."
more videos
الرئيس ميقاتي يهنىء بمناسبة حلول عيد الفطر السعيد