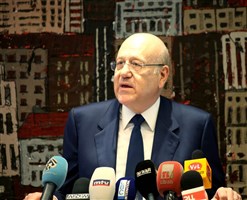 Print
Mikati touts Charbel's law draft as best possible for Taef
Friday, Feb 10, 2017
NNA - Former PM Najib Mikati hoped that the electoral law drafted by former Minister Marwan Charbel would be proposed as "such law is not idealistc, but the best possible within the trend of Taef Accord and its complete implementation, especially concerning the formation of a council for senates."

Former PM Mikati's stance came Friday in the context of a press conference.

He defended Charbel's law draft as based on proportionality which was something positive to serve a fair popular representation especially for confessional and political minorities, not to mention that it ensures six parliamentary seats for Lebanese emigrants.

He underscored, "This law [Charbel's] is the most appropriate if we want a solution, not crisis...I think that remarks would be put by the wisdom of Speaker Nabih Berri, who, for his part, fragments the draft in a way suiting all local sides. I address all politicians to focus their aim on serving Lebanon's interest."

Mikati announced that he was setting his own electoral list in Tripoli with persons he already agreed with in this regard.
more videos
من كلمة الرئيس ميقاتي خلال اللقاء السنوي لقطاع العزم للتعليم المهني