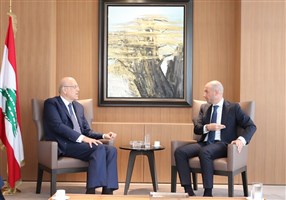 Print
Mikati, Jreissati talk waste management
Monday, Sep 09, 2019
NNA - Former Prime Minister Najib Mikati met Monday with Minister of Environment, Fadi Jreissati, over the government's waste management plan.

The visit comes within the frame of Jreissati's tour among political leaderships and parliamentary blocs to explain the roadmap of the comprehensive waste management plan as approved by the Council of Ministers.
more videos
المؤتمر الصحافي للرئيس نجيب ميقاتي و"كتلة الوسط المستقل"