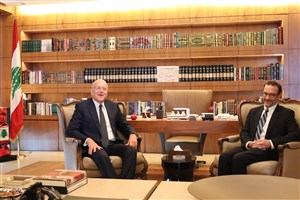 Print
Mikati: Recent South developments reveal the need for all possible endeavors to prevent escalation
Tuesday, Sep 10, 2019
NNA - Former Prime Minister, Najib Mikati, received this afternoon US Assistant Secretary of State for Near Eastern Affairs, David Schenker, who visited him at his residence accompanied by US Ambassador Elizabeth Richard.

During the meeting, Mikati stressed the importance of Lebanese-American relations in all fields, praising the US support for the Lebanese army and security institutions to help maintain security and stability in the country.

Mikati also emphasized "Lebanon's adherence to UN Resolution #1701," adding that "recent developments in the South and the Israeli aggressions show the need to exert all possible efforts to maintain stability and prevent escalation."

Meanwhile, he commended "the United States' renewed readiness to contribute to the demarcation of land and sea borders," asserting that "this step is a meeting point for all Lebanese."
more videos
المؤتمر الصحافي للرئيس نجيب ميقاتي و"كتلة الوسط المستقل"