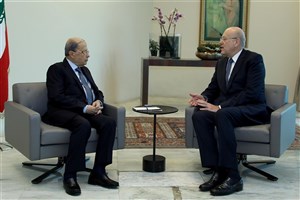 Print
Mikati from Baabda: Independent Center Bloc did not nominate anyone to head government
Thursday, Dec 19, 2019
NNA - Former PM Najib Mikati announced, after meeting President of the Republic, General Michel Aoun, that his bloc, the Independent Center, did not name anyone as head of government.

Mikati said after the meeting: "Finally, the binding consultations, that we were calling for, took place and during the fifty-day period we noticed how things developed as each day of delay cost a great deal on the economy and social conditions of all Lebanese. In the Independent Central Bloc, which will soon participate in the consultations, we discussed this morning the issue of naming and set standards for the Prime Minister who is ready and who has expressed his willingness to take on this difficult task. And the criteria are the capabilities of this person, his attendance, and his representative capacity. Frankly, despite my personal respect for the two subjects, we did not find anyone with these specifications, and therefore we did not name anyone and veiled the designation".

Replying to a question Mikati said "With all my respect for people and my friendship with them, in this period we need an exceptional person with an exceptional team. I do not want to frustrate the hopes of the Lebanese, but I have doubts that none of the parties can take over at this stage".

"We are not talking about the Sunni or Christian cover, and I remind you that Prime Minister Hariri asked to delay consultations because the Lebanese forces and the Free Patriotic Movement refused to name him, and therefore this matter should be a message that we are not satisfied with the name that landed by parachute" Mikati stated.
Replying to another question the Former PM stated "It is the path of things which determines the name, and if the designation is all of one color, then it will be a Government of one color. As for the comparison between the conditions for forming my Government and the current conditions, it is not suitable, because the situation is much more difficult, and I remind you that I spoke about capabilities, attendance and representation. You must compare to know how the conditions are different".