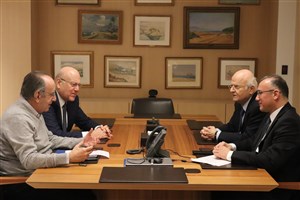 Print
Independent Center Bloc: We will not attend tomorrow's session; hence, no confidence vote!
Monday, Feb 10, 2020
NNA - The "Independence Center" Parliamentary Bloc held a meeting at the office of former PM Najib Mikati today, in the presence of MPs Jean Obeid, Ncoula Nahhas and Ali Darwish.

The conferees dwelled on the current prevailing situation, and the ministerial statement discussion and confidence session scheduled for tomorrow at the Parliament House.

In this context, the Bloc stated that its members will not attend the session tomorrow, and consequently, will not give the new government their votes of confidence.

The Bloc indicated that its decision comes in line with its call for building bridges of dialogue and understanding, instead of contributing to the widening wedge between the state and the people.

The Bloc also stressed that the state's authority is required, at this fateful crisis stage, to call for a national gathering to come up with a consensus that would address and solve the roots of the prevailing conditions.
more videos
كلمة للرئيس نجيب ميقاتي بمناسبة العام الجديد