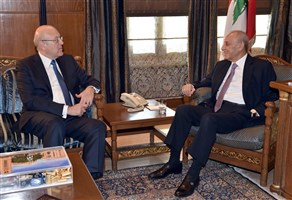 Print
Mikati after visiting Berri: For holding timely parliamentary elections
Tuesday, Mar 07, 2017
NNA - House Speaker Nabih Berri met on Tuesday afternoon at Ain Tineh residence with former Prime Minister Najib Mikati, whereby they discussed the current situation, particularly with regard to the electoral due date and the poll law.

On emerging, Mikati underlined the dire need for the implementation of the Constitution and law, calling for holding timely parliamentary elections.

Mikati also called on the government to avoid any delay or procrastination in this subject and to summon the Council of Ministers to approve the necessary options and the formation of the electoral supervisory body.
more videos
كلمة الرئيس ميقاتي في الحفل الختامي لـ "جائزة عزم طرابلس لحفظ القرآن الكريم"