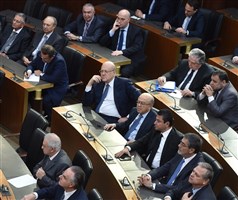 Print
Mikati from Nejmeh Square wishes cabinet would restudy his cabinet's electoral law or provides new one
Thursday, Apr 06, 2017
NNA - Former Prime Minister Najib Mikati called upon the cabinet to "retrieve the electoral law that his cabinet has provided to restudy it or to provide a new one."

Mikati's words came during the parliament's session to evaluate the cabinet's performance.

Mikati said "the cabinet has not yet formed a committee to supervise the elections, "wishing it would do so before the end of the constitutional deadlines.
more videos
مقابلة الرئيس نجيب ميقاتي في برنامج «آخر كلمة» على شاشة LBCI