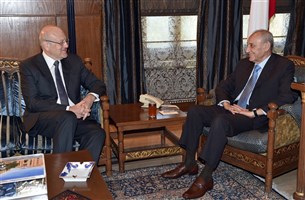 Print
Berri, Mikati tackle current developments
Tuesday, May 16, 2017
NNA - House Speaker, Nabih Berri, on Tuesday met at his Ein Tineh residence with former Prime Minister Nejib Mikati over the most recent developments on the local scene, notably with regard to the long simmering parliamentary election law.

On emerging, Mikati said that he took up with the Speaker the electoral draft law forwarded by his government to the House of Parliament that adopts full proportionality system with 13 electoral districts.

Mikati also hoped that a new parliamentary election law will be reached before the expiration of deadlines, urging all sides to unite and cooperate for the sake of building the nation.
more videos
مقابلة الرئيس نجيب ميقاتي في برنامج «آخر كلمة» على شاشة LBCI