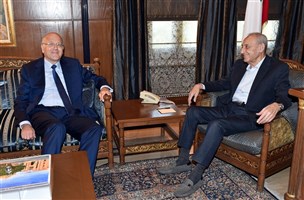 Print
Mikati visits Berri: We cling to Maronite seat in Tripoli
Monday, Jun 12, 2017
NNA - House Speaker, Nabih Berri, met on Monday at his Ain Tineh residence with former Prime Minister, Najib Mikati, with talks between the pair reportedly touching on the current situation, notably the long simmering election law.

On emerging, Mikati said they both saw eye to eye over the need to stick to the Maronite seat in the northern city of Tripoli without its transfer to another district.

Mikati underlined that Tripoli is the city of national coexistence, embracing all its citizens without exception.
more videos
مقابلة الرئيس نجيب ميقاتي في برنامج «آخر كلمة» على شاشة LBCI