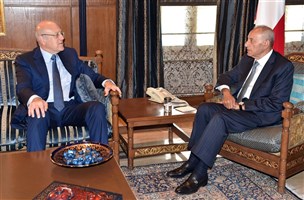 Print
Berri meets Mikati
Monday, Oct 02, 2017
NNA - Speaker of the House, Nabih Berri, welcomed, at his Ain-el-Tineh residence on Monday, former Prime Minister MP Najib Mikati, with whom he discussed most recent developments, especially the next legislative session regarding the tax law.

"It is true that the tax law's issuance was delayed due to the challenge motion submitted to the Constitutional Council, but we have to take into consideration many things regarding the new law that is being prepared. First of all, we must look into the quality if levies so that they should not include the poor," Mikati explained to reporters following the meeting.

On the political side, we discussed the dissociation policy that was adopted by my government and the two governments that followed. I believe that this policy is the best for Lebanon which cannot be part of regional and international alignments," he said.

"Lebanon must be away from any foreign axis," he stressed.
more videos
مقابلة الرئيس نجيب ميقاتي في برنامج «آخر كلمة» على شاشة LBCI