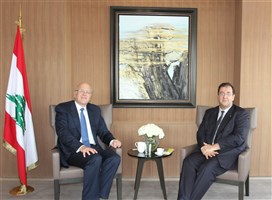 Print
Mikati meets French Ambassador
Wednesday, Nov 08, 2017
NNA - Former prime minister Najib Mikati met today with French Ambassador to Lebanon, Bruno Foucher, at his Beirut office, National News Agency correspondent reported on Wednesday.

The pair discussed the current situation and the bilateral relations between Lebanon and France.

Speaking to reporters following the meeting, Mikati said he did not have accurate information about the circumstances of Prime Minister Saad Hariri's resignation, hailing the wisdom of President Michel Aoun in that respect.
more videos
مقابلة الرئيس نجيب ميقاتي في برنامج «آخر كلمة» على شاشة LBCI