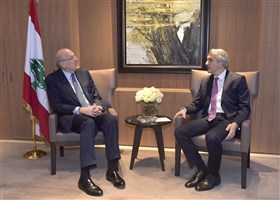 Print
Mikati, outgoing Turkish Ambassador tackle current developments
Monday, Jan 22, 2018
NNA - Former Prime Minister, Najib Mikati, received on Monday at his office outgoing Turkish Ambassador to Lebanon, Cagatay Erciyes, who came on a farewell visit at the end of his diplomatic mission in Lebanon.

Talks between the pair reportedly touched on the bilateral ties between Lebanon and Turkey and most recent developments in the region.
more videos
كلمة الرئيس ميقاتي في الحفل الختامي لـ "جائزة عزم طرابلس لحفظ القرآن الكريم"