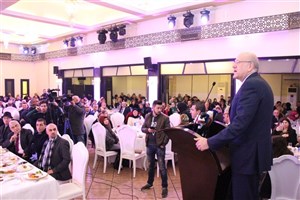 Print
Mikati to go to polls with sportsmanship competition, bowing to citizens decision
Saturday, Jan 27, 2018
NNA - Former Prime Minister Najib Mikati stressed Saturday that he will run in the upcoming parliamentary elections in a sportsmanship competition spirit, and will bow to the decision of the people in said elections.

"We are working on the basis that the legislative elections will take place next May, and we will engage in them with all seriousness and sportsmanship competition, with building a strong and fully sovereign state as our leading headline," asserted Mikati, speaking during a ceremony organized by members of "Al-Azem Trade Merchants" in Tripoli.

"I have raised the slogan of serving Tripoli and the North, and all of Lebanon, and I hope all fellow candidates would work within this context, competing for the service of our city...Let the people decide and I will bow before their decision, whatever it may be," Mikati added.

"We will not fail to exercise our right to vote freely, and to elect whoever we see fit for the city of Tripoli, in light of his achievements and contribution to supporting its people," he went on to assert.

"As for the electoral list, we are a one family in Minieh, Dinnieh, Akkar and Tripoli. Our goal is to form a single bloc concerned with the North and its development, each within his area of competence and expertise," explained Mikati.

In this connection, he called on the government to "clarify how the counting of votes will take place in the parliamentary elections," hoping that "it would be electronic and transparent, without taking too long to issue the results."

Over the prevailing economic situation, Mikati deemed it as "urgently requiring serious government action to stimulate the economy, which can only be achieved by giving incentives to setting-up projects outside the capital."

As for the waste management crisis, Mikati considered that "the time has come to find scientific and healthy solutions to this problem, in cooperation with municipalities and all state departments and bodies concerned, so as to lift the heavy burden off citizens' shoulders."
more videos
مقابلة الرئيس نجيب ميقاتي في برنامج «آخر كلمة» على شاشة LBCI