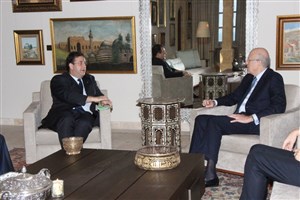 Print
Mikati welcomes French Ambassador
Wednesday, Feb 07, 2018
NNA - The French ambassador to Lebanon, Bruno Foucher, met with former Premier Najib Mikati in Tripoli with talks featuring high on the general situation in Lebanon and the region and ways to activate relations between Lebanon and France.

The pair also tackled possible cooperation with France to implement a number of projects in Tripoli and strengthen the francophone role in the city.

Before the meeting, the French ambassador toured with Mikati the Al-Azm School in Tripoli, met with officials and discussed with them prospects of cooperation.
more videos
مقابلة الرئيس نجيب ميقاتي في برنامج «آخر كلمة» على شاشة LBCI