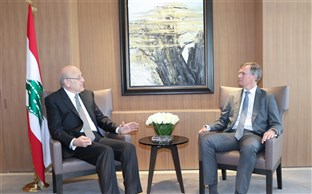 Print
Mikati meets Shorter, Hamas delegation
Monday, Jun 18, 2018
NNA - Former prime minister, MP Najib Mikati, on Monday met with British Ambassador to Lebanon, Hugo Shorter, over the current situation in the country and the broader Arab region, in addition to the efforts aiming to preserve home stability.

The pair also dwelt on the reverberation of the Syrian refugee crisis on Lebanon.

Mikati later received a delegation of Hamas Movement chaired by Ali Baraka.

"We extended to Mikati our congratulations on his electoral win and greetings upon the Fitr. We also discussed an array of regional developments in light of the US Embassy transfer to al-Quds," the Hamas representative in Lebanon told reporters following the meeting.

"Talks also touched on Ain-el-Hilwe Palestinian refugee camp's electronic gates," he added.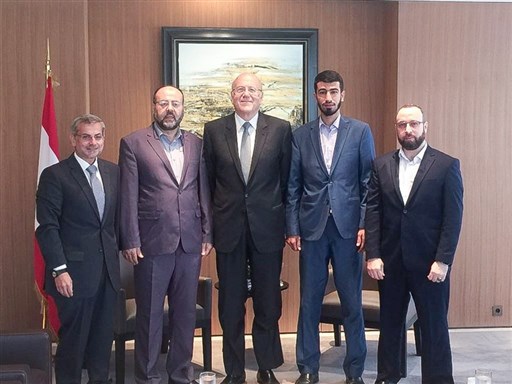 Hamas Movement delegation chaired by Ali Baraka
more videos
مقابلة الرئيس نجيب ميقاتي في برنامج «آخر كلمة» على شاشة LBCI