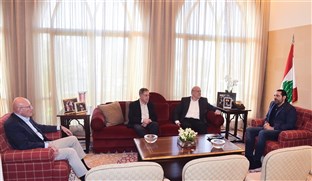 Print
Hariri, Siniora, Mikati, Salam convene at Center House, confirm solidarity to form new government
Saturday, Jun 30, 2018
NNA - Prime Minister-designate Saad Hariri met Saturday evening at the "House of Center" with former Prime Ministers Najib Mikati, Fouad Siniora and Tammam Salam, with the political situation in Lebanon and the region featuring high during their discussions.

Talks reportedly focused on the new government formation amidst a friendly atmosphere, according to a statement by Hariri's Press Office.

"Views were consistent on various issues, as all stressed the importance of cooperation with PM-designate Hariri, and solidarity in supporting his mission to form the next government and address the awaiting responsibilities," the statement added.
more videos
مقابلة الرئيس نجيب ميقاتي في برنامج «آخر كلمة» على شاشة LBCI