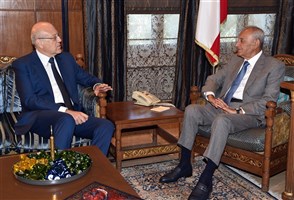 Print
Mikati meets Berri, says not time for political luxury
Thursday, Jul 12, 2018
NNA - Former Prime Minister, MP Najib Mikati, met on Thursday with House Speaker, Nabih Berri, at the latter's Ein Teeneh residence.

Talks between the pair reportedly touched on the most recent developments, especially vis-a-vis cabinet formation endeavors.

"I was pleased to meet with Speaker Berri; we discussed the prevailing issues on the internal arena, especially with regard to the ongoing efforts to form a new cabinet. The House Speaker and I saw eye-to-eye on the fact that it is not time for political luxury," Mikati said on emerging, stressing the need to have all sides sacrifice for the sake of swiftly forming a the lengthily awaited government.

"The cabinet will be formed," Mikati confirmed, hoping that it would be at the required level "with ministers who have one vision to salvage the nation from the existing crises."

"I also spoke with Speaker Berri about the concerted efforts of PM-designate Saad Hariri to form a government," Mikati added, hoping that the anticipated cabinet will witness birth soon.
more videos
مقابلة الرئيس نجيب ميقاتي في برنامج «آخر كلمة» على شاشة LBCI