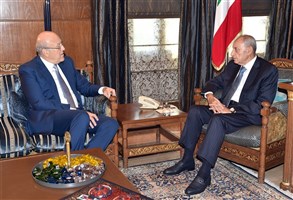 Print
Berri met Mikati
Thursday, Oct 11, 2018
NNA - Speaker of the House, Nabih Berri, welcomed at his Ein Teeneh residence on Thursday former Prime Minister, Najib Mikati, with whom he discussed the general situation in the country, as well as the government dossier.

On emerging, Mikati said that he was optimistic about the formation of the lengthily awaited government.

"We have been exposing Lebanon to social and economic challenges, as well as to regional and international pressures instead of endeavoring to protect it; we're unfortunately allowing these foreign pressures to have a negative impact on the country, Mikati added.