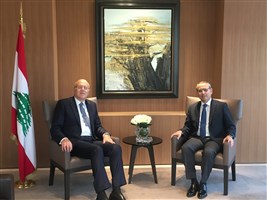 Print
Ambassador of Egypt meets Mikati
Tuesday, Nov 13, 2018
NNA - Egypt's Ambassador to Lebanon Nazih Al-Najari met this Tuesday with former PM Najib Mikati and tackled with him the current developments in Lebanon and the region.

After the meeting, the Egyptian ambassador said "We wish, once again, that the Lebanese government will be formed as soon as possible, and we wish success to Prime Minister Hariri and to all the parties involved in this mission that serves Lebanon's interests and stability."

In response to a question about the Egyptian position on the events in Gaza, he said: "Egypt plays a key role in this matter. It has conveyed the required messages to all the parties and, certainly, the demand to stop the aggression on Gaza and the Palestinian territories. This is a stable position by Egypt which exerts constant efforts to preserve the Palestinian cause."