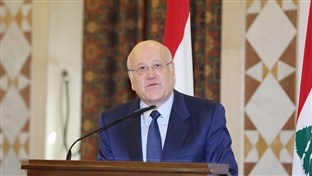 Print
Mikati: We look forward to resuming government sessions as soon as possible
Tuesday, Oct 26, 2021
NNA - Prime Minister Najib Mikati affirmed his looking forward to "resuming the cabinet sessions as soon as possible to issue the decisions required to activate the work of bodies and committees and accomplish what is required of the government, based on the contents of its ministerial statement."

He stressed that "we look ahead for a government that is honest in supervising the upcoming parliamentary elections, so that it will be an opportunity for all Lebanese segments to freely and impartially express their aspirations and opinions, so that these elections will be a station for renewing political life and the transfer of power."

"I am certain, in this exceptional circumstance, that getting out of the accumulated crises will pass through supporting the public administration, immunizing it against corruption, and concentrating efforts to activate its performance and raise the level of transparency in its practices," Mikati affirmed.

He said that "with regard to the formation of the National Anti-Corruption Commission, we have taken practical steps to activate it, starting with the election of judges Claude Karam and Therese Allawi, provided that the government works in the first session of the Council of Ministers to complete the appointment of other members after the nominations are completed."

Mikati made these remarks during his patronage of the "conference towards reform and recovery: Implementing the national strategy to combat corruption" organized by the Ministry of State for Administrative Development in partnership with the United Nations Development Program. The conference was attended by high-ranking officials and dignitaries.
more videos
كلمة الرئيس نجيب ميقاتي خلال حفل إطلاق التسجيل على شبكة "دعم" للحماية الاجتماعية في السراي الحكومي