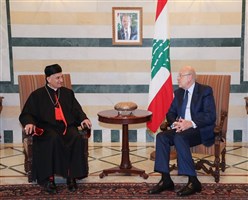 Print
Mikati, Rahi meet at Grand Serail
Tuesday, Oct 26, 2021
NNA - Maronite Patriarch Beshara Rahi underlined that there is a door to solutions, in remarks made following his meeting with Prime Minister Najib Mikati, whom he visited at the Grand Serail on Tuesday, in the presence of the Secretary General of the Council of Ministers, Judge Mahmoud Makieh, and the Maronite Patriarchal Media Officer, Walid Ghayad.

"I am glad that we are not in a closed room. There is indeed a door to a solution," said the prelate.

He called for ending the disruption of the governmental work, urging the council of ministers to convene.

In response to a question about the Tayouneh events, Rahi highlighted the necessity to protect the judiciary, the law, and the Constitution to reach solutions.
more videos
كلمة الرئيس نجيب ميقاتي خلال حفل إطلاق التسجيل على شبكة "دعم" للحماية الاجتماعية في السراي الحكومي