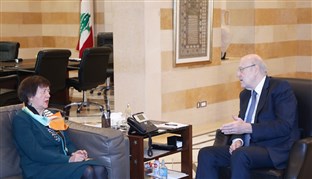 Print
Mikati meets UN's Wronecka, UK Defense Senior Advisor to the Middle East
Monday, Jan 23, 2023
NNA - Caretaker Prime Minister, Najib Mikati, on Monday met at the Grand Serail with United Nations Special Coordinator for Lebanon, Joanna Wronecka.

"We've discussed the role of the UN and the activities it could carry out this year, as well as what is required of it," Wronecka said on emerging.

"The election of a president will have a positive impact on all issues in Lebanon, and we hope that will happen as soon as possible," the UN diplomat added.

On the other hand, Caretaker Premier Mikati received at the Grand Serail, UK Defence Senior Advisor to the Middle East and North Africa, Air Marshal Martin Sampson, in the presence of British Ambassador to Lebanon, Hamish Cowell, in the presence of Premier Mikati's Advisors Ambassador Boutros Assaker and Ziad Mikati.

Premier Mikati later met with Caretaker Minister of Public Health, Dr. Firas Abiad, who said on emerging that he discussed with the Premier the hospitals and medicines' issues.

Mikati separately had an audience with President of the General Labor Confederation (GLC) Bechara Asmar.
more videos
الرئيس نجيب ميقاتي في مقابلة على قناة الجديد مع سامي كليب