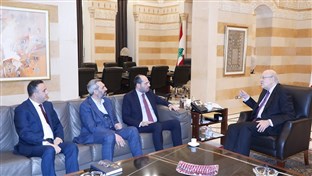 Print
Mikati meets delegation of House Committee of Education, broaches educational, financial, banking conditions with Grand Serail itinerant visitors
Wednesday, Jan 25, 2023
NNA - Caretaker Prime Minister, Najib Mikati, met, at the Grand Serail on Wednesday, with a delegation of the House Committee of Education, comprising MPs Hassan Mrad, Ihab Hamade and Ashraf Baydoun.

Talks reportedly touched on the conditions of public schools' teachers.

Caretaker Premier Mikati also met with MP Akram Chehayeb, on top of a delegation, with discussions touching on national educational affairs.

Mikati later received at the Grand Serail the head of the Association of Banks in Lebanon, Salim Sfeir, on top of a delegation, with whom he discussed the current banking and financial conditions in the country.

Among Premier Mikati's itinerant visitors for today had been MP Qabalan Qabalan, and former Minister Naji al-Bustani.
more videos
الرئيس نجيب ميقاتي في مقابلة على قناة الجديد مع سامي كليب