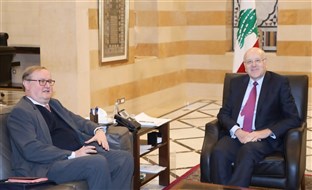 Print
Mikati meets Duquesne
Thursday, Feb 02, 2023
NNA - Caretaker Prime Minister, Najib Mikati, held talks with the French Ambassador in charge of coordinating the international aid to Lebanon, Pierre Duquesne, whom he met at the Grand Serail on Thursday.

During the meeting, Duquesne stressed the necessity to complete the required steps ahead of signing a final deal with the International Monetary Fund. He underlined that the agreement with the IMF is key to ensure the recovery of Lebanon's economy and to unlock the international aid.

He also stressed the necessity of implementing the two conditions required by the IMF in the energy sector, namely the auditing of the Lebanon's Electricity accounts and the formation of the electricity regulatory authority.
more videos
الرئيس نجيب ميقاتي في مقابلة على قناة الجديد مع سامي كليب