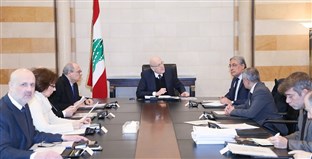 Print
Mikati chairs meeting for the ministerial committee tasked with electricity file
Wednesday, Feb 08, 2023
NNA - Caretaker Prime Minister, Najib Mikati, chaired a meeting at the Grand Serail for the ministerial committee in charge of the electricity file.

Earlier today, Premier Mikati met with Head of the General Labor Confederation, Beshara Asmar, over the conditions and wages of the civil servants.

Mikati also received at the Grand Serail, the United Nations High Commissioner for Refugees (UNHCR) Representative in Lebanon, Ivo Freijsen, who paid him an acquaintance visit upon assuming his new duties in Lebanon.

Discussions reportedly touched on the UNHCR's activities in Lebanon.
more videos
الرئيس نجيب ميقاتي في مقابلة على قناة الجديد مع سامي كليب