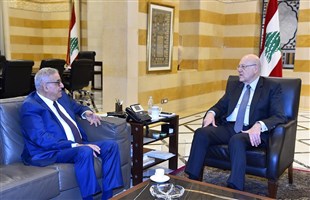 Print
Mikati meets with Ministers of Foreign Affairs, Information, Industry and Social Affairs
Wednesday, May 10, 2023
NNA - Caretaker Prime Minister, Najib Mikati, on Wednesday welcomed at the Grand Serail Caretaker Minister of Foreign Affairs and Emigrants, Abdallah Bou Habib, with whom he discussed the latest developments, as well as preparations underway for Lebanon's participation in the thirty-second regular session of the Arab League Council's meeting, which will be held in Jeddah, Saudi Arabia on May 19.

The Prime Minister then welcomed Caretaker Information Minister, Ziad Makary, with whom he discussed an array of ministerial affairs.

Mikati then met with Caretaker Minister of Industry, George Boushikian, who said in the wake of the meeting: "I've discussed with the Prime Minister industry-related issues, especially with regard to exports, as well as the positive developments in the sector, which will be a strong catalyst for the Lebanese economy in the next stage."

Caretaker Minister of The Displaced, Issam Charafeddine, also had an audience with the Prime Minister.

On emerging, Charafeddine said that the Syrian refugee dossier and their return to their homeland "is a basic item" on the agenda of the cabinet session, which is scheduled for May 22.

The Premiere then received a joint delegation including head of land transport federations and unions, Bassam Tlais, the representative of fuel distributors in Lebanon, Fadi Abu Shaqra, and head of the truck drivers' union, Shafiq al-Qassis.
more videos
كلمة الرئيس ميقاتي أمام الهيئة العامة للأمم المتحدة