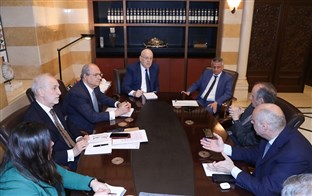 Print
Mikati chairs meetings over 2023 state budget, Nahr al-Bared electricity situation
Thursday, May 11, 2023
NNA – Caretaker Prime Minister, Najib Mikati, on Thursday chaired a meeting at the Grand Serail devoted to discussing the 2023 state budget.

The meeting was attended by Deputy Prime Minister, Saadeh Al-Shami, Caretaker Minister of Finance, Dr. Youssef Al-Khalil, Director General of the Ministry of Finance, George Maarawi, and Mikati's Advisors, former Minister Nicolas Nahas and Samir al-Daher.

Caretaker Premier Mikati also chaired at the Grand Serail a meeting devoted to discussing the electricity situation in Nahr al-Bared.

The meeting was attended by Caretaker Minister of Energy and Water, Dr. Walid Fayyad, MP Ahmad al-Khair, Head of the Civil Service Council, Nisreen Machmouchi, and Director General of the Electricity of Lebanon (EDL) Kamal Hayek.

Premier Mikati received this morning the President of the Economic and Social Council, Charles Arbid, who said on emerging that he briefed the Premier on the atmosphere of the meetings that the Economic and Social Council is undertaking regarding the issue of the Syrian displacement.

Mikati later received a delegation representing the "Arab-African Friendship Association" headed by Ali Murad, who said after the meeting that the delegation briefed the PM on the Association's activities in Arab and African countries and its plan to open a main office for it in Beirut, in addition to offices in Doha, Zimbabwe, Zambia, Angola, Uganda, Burundi and Congo-Kinshasa.

Murad added that the delegation also briefed the Premier on the atmosphere of a conference to be patronized by the Association in June in Bujumbura, Burundi.

Murad also relayed that Premier Mikati promised to support the Association's efforts and goals.
more videos
كلمة الرئيس ميقاتي أمام الهيئة العامة للأمم المتحدة