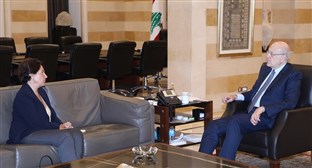 Print
Mikati meets with French and Italian Ambassadors
Monday, May 15, 2023
NNA - The Grand Serail witnessed a series of meetings on Monday, which started with an audience between premiere Mikati and French Ambassador to Lebanon, Anne Grillo, who said on emerging: "We've discussed the overall situation and developments on the Lebanese scene."

The Prime Minister then received Italian Ambassador to Lebanon, Nicoletta Bombardieri, with whom he discussed the country's general situation, as well as bilateral relations between both countries.

Mikati later met with head of the Parliamentary Human Rights Committee, MP Michel Moussa, who said after the meeting: "Prisons in Lebanon are suffering from a very big crisis, and the main problem is overcrowding, and the social crisis that affected nutrition and medical care."

The Prime Minister the welcomed the Chairman of the Housing Bank Board of Directors, Antoine Habib, with whom he followed up on the bank's projects.

On emerging, Habib affirmed that the Arab Fund loan of approximately 50 million Kuwaiti dinars — equivalent to about USD 165 million — "still exists and will be paid in three stages."

"The value of the loan that will be given to borrowers is USD 40 thousand for individuals with limited income and USD 50 thousand for individuals with middle income," Habib added.
more videos
كلمة الرئيس ميقاتي أمام الهيئة العامة للأمم المتحدة