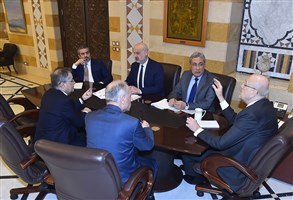 Print
Mikati follows up on prison conditions with concerned ministers
Wednesday, May 17, 2023
NNA - Caretaker Prime Minister, Najib Mikati, on Wednesday chaired at the Grand Serail a meeting by the ministerial committee tasked to follow up on prison conditions in Lebanon.

After the meeting, MP Moussa said: "During the meeting, all matters related to the prison file were raised, such as medicine, nutrition, unconvicted prisoners, speeding up trials, as well as legal and judicial issues."

"The meeting was good; most importantly, there was an appropriate distribution of tasks and clarification of many matters. Every minister will do what is required of him, and if necessary, we will meet again to evaluate the results."

Mikati then met with Caretaker Minister of Education, Judge Abbas al-Halabi, with whom he discussed an array of ministerial affairs.

Mikati later received a delegation representing the "National Moderation Bloc", with whom he discussed some developmental issues in Akkar region.

After the meeting, MP Walid Al-Baarini stressed the need to fill presidential vacuum "because every day of delay will push Lebanon towards total destruction."

The Prime Minister also had an audience with the Chairman of "IDAL" Board of Directors, Mazen Sweid, who visited him with an accompanying delegation.

After the meeting, Sweid said, "Today, we announced the launch of the trade exchange platform with Iraq."

In response to a question, Sweid said: "We've found a mechanism to pay Iraqis in exchange for oil through Lebanese products and investment facilities in Lebanon, and God willing, this platform show results with time."

Mikati then welcomed President of the Lebanese National Higher Conservatory of Music, Dr. Hiba Kawas, who said after the meeting: "I came to thank His Excellency, PM Mikati, for all the support and care he's given to the conservatory amid all the difficult circumstances we've endured."

"We've begun to see tangible results after nine months of hard work -- thanks to the patronage of Premiere Mikati. This conservatory purveys a civilized and beautiful image of Lebanon, and it will pave the way for musical diplomacy with the world; God willing, it will become one of the pillars of Lebanon's economy," Kawas added.
more videos
كلمة الرئيس ميقاتي أمام الهيئة العامة للأمم المتحدة