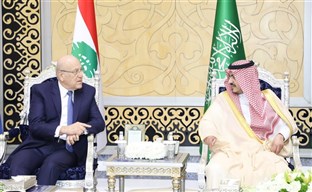 Print
Mikati arrive in Jeddah to participate in Arab Summit
Thursday, May 18, 2023
NNA – Caretaker Prime Minister, Najib Mikati, arrived this afternoon in the city of Jeddah in the Kingdom of Saudi Arabia, chairing the Lebanese delegation to the meetings of the thirty-second regular session of the Arab League Council at the summit level, which will be held tomorrow afternoon, Friday.

The Lebanese official delegation to the Summit includes Caretaker Ministers of Foreign Affairs and Emigrants, Abdallah Bou Habib, Industry Georges Bouchikian, Trade and Economy Minister Amin Salam, Tourism Walid Nassar, and Agriculture Dr. Abbas Hajj Hassan, in addition to Premier Mikati's Diplomatic Adviser, Ambassador Boutros Asaker.

The delegation will be joined by the Lebanese Ambassador to the Kingdom of Saudi Arabia, Fawzi Kabbara, and the Lebanese Ambassador to the Arab League, Ali Al-Halabi.

Greeting Prime Minister Mikati during an official reception ceremony at King Abdulaziz International Airport had been Makkah Deputy Governor Prince Badr bin Sultan, Secretary-General of the League of Arab States, Ahmed Aboul Gheit, Lebanon's Ambassador to Saudi Arabia, Fawzi Kabbara, and Saudi Ambassador to Lebanon Walid Bukhari.
more videos
كلمة الرئيس ميقاتي أمام الهيئة العامة للأمم المتحدة