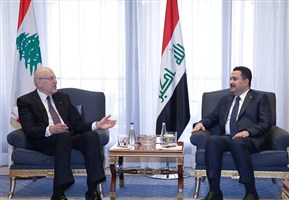 Print
Mikati meets with Iraqi counterpart in Jeddah
Friday, May 19, 2023
NNA – Caretaker Prime Minister, Najib Mikati, on Friday met on the sidelines of the Arab league summit, which is currently being held in Jeddah, with Iraqi Prime Minister, Mohammed Shia' al-Sudani.

During the meeting, the Iraqi Prime Minister expressed his "love for Lebanon", describing Iraq and Lebanon as "twins".

For his part, Mikati said, "Iraq has always extended its support for Lebanon, especially amid its dire circumstances," thanking the Iraqi state for what it provides to Lebanon on a permanent basis.

"The recent Iraqi initiative supplying oil to Lebanon represents a basic support at this stage for all the Lebanese and all the country's productive sectors," Mikati added.

"We also thank Iraq for facilitating the arrival of transit trucks, through Iraqi territory, to Gulf states," Mikati concluded, noting that a memorandum of understanding will soon be signed between Lebanon and Iraq.
more videos
كلمة الرئيس ميقاتي أمام الهيئة العامة للأمم المتحدة