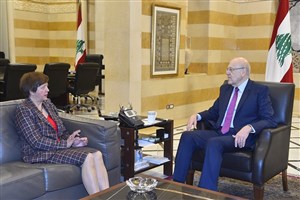 Print
Mikati tackles developments, Arab Summit outcome with UN's Wronecka
Monday, May 22, 2023
NNA -  Caretaker Prime Minister, Najib Mikati, on Monday met at the Grand Serail with the United Nations Special Coordinator for Lebanon, Joanna Wronecka, in the presence of Premier Mikati's Advisors, Ambassador Boutros Assaker and Ziad Mikati.

During the meeting, they discussed the current developments in Lebanon and the outcome of the Jeddah Arab summit with regard to the Lebanese situation, in terms of emphasizing that the Lebanese political leaders and parliamentarians play their role in electing a new president for Lebanon and carrying out the required reforms.

The Prime Minister touched on the situation in south Lebanon, stressing "the existing cooperation between the army and UNIFIL forces within the United Nations area of operations, and Lebanon's commitment to international resolution 1701."

On the other hand, Premier Mikati received at the Grand Serail President of the Asian Football Confederation (AFC), Sheikh Salman bin Ibrahim Al Khalifa, in the presence of President of the Lebanese Football Association, Hashem Haidar.

Mikati also received "Solidere" Board Chairman and General Manager, Nasser Chammaa.
more videos
كلمة الرئيس ميقاتي أمام الهيئة العامة للأمم المتحدة