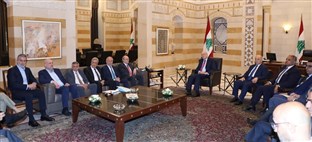 Print
Mikati chairs consultative meeting over current dossiers
Monday, May 22, 2023
NNA – Caretaker Prime Minister, Najib Mikati, on Monday afternoon chaired a consultative meeting with ministers, at the Grand Serail, to discuss current dossiers.

The meeting was attended by Caretaker Deputy Prime Minister, Saadeh Al-Shami, Caretaker Ministers of Education and Higher Education Abbas Al-Halabi, Information Ziad Makary, Justice Henry Khoury, Youth and Sports George Kallas, National Defense Maurice Sleem, Displaced Issam Sharaf El-Din, Finance Youssef Al-Khalil, Administrative Development Affairs Najla Riachi Najla Riachi, Social Affairs Hector Hajjar, Industry George Bouchikian, Tele-Communications Johnny Corm, Tourism Walid Nassar, Interior and Municipalities Bassam Mawlawi, Culture Mohammad Wissam Al-Mortada, Environment Nasser Yassin, Agriculture Abbas Haj Hassan, Public Works and Transportation Ali Hamieh, and Economy and Trade Amin Salam.

The Director-General of the Presidency of the Republic, Dr. Antoine Choucair, and the Secretary-General of the Council of Ministers Judge Mahmoud Makiya, also participated.

It is scheduled that the Council of Ministers will hold a session at 3.00 pm next Friday, with the Cabinet's session's agenda to be distributed at a later time.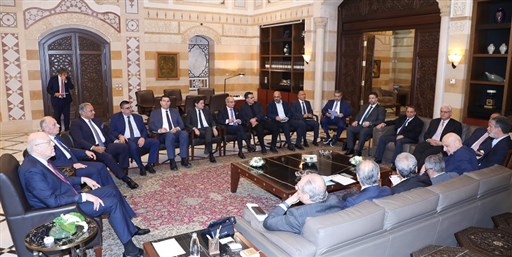 A consultative ministerial meeting at the Grand Serail
more videos
كلمة الرئيس ميقاتي أمام الهيئة العامة للأمم المتحدة