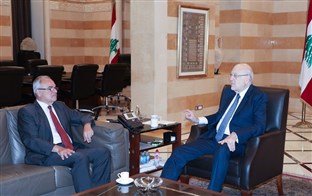 Print
SIC's Mansour briefs Mikati on outcome of MENAFATF 36th plenary meeting
Monday, May 29, 2023
NNA - Caretaker Prime Minister, Najib Mikati, on Monday welcomed at the Grand Serail the Secretary General of the Lebanese Special Investigation Commission (SIC), Abdul Hafiz Mansour. The SIC is tasked to implement the Anti-Money Laundering/Combating the Financing of Terrorism (AML/CFT) laws in Lebanon.

Mansour briefed Mikati on the outcome of the 36th plenary meeting of the MENAFATF (Middle East and North Africa Financial Action Task Force), which was held in Bahrain.

In the wake of the meeting, Mansour said that discussions mainly focused on the process of evaluating Lebanon's commitment in the fight against money laundering and financing terrorism.

"As per the statement issued by Lebanese Special Investigation Commission late last week, the report had been discussed over the span of three sessions," Mansour said.

"We have to wait for the report to be published next month," he added, indicating that "Lebanon was represented during discussions and deliberations by a highly professional team."

"The evaluation process is conducted in accordance with certain procedures and standards; therefore, discussions were serious, and it was urgent to hold them in compliance with these standards," Mansour added.
more videos
كلمة الرئيس ميقاتي أمام الهيئة العامة للأمم المتحدة